Back To Our Services
A gate Intercom System is the best solution to security issues. It is the greatest way to enhance security since the homeowner will have the opportunity to have communication with the visitor standing at the rolling gate and decide whether to deny or grant access. These systems are tremendously helpful in huge estates, big public or private commercial and office establishments, where people must be checked before they allowed in the property. The expert technicians of "Gate Repair Forest Hills" have huge and deep knowledge of the different models of these systems, the characteristics of different brands and how to service them properly.
Great intercom systems and immediate services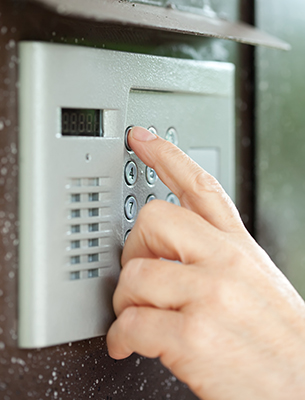 Having great expertise and experience our specialists can assure you of their competence to provide intercom gate repair. Whether simple or complicated it is still important that these systems are installed properly in order to operate right and facilitate the entrance and exit of people through the automatic rolling gate. Of course, we are familiar with all intercoms and phone entry systems, which also give you the capacity to have your own codes for fast access in the property. In this case, you personally gain access by entering your password but you also have the opportunity to offer your friends, a certain number of temporary employees and your relatives their own codes for immediate access as well.
In any case, you can be sure that the technical teams of Gate Repair Forest Hills have the ability to program all Doorking, Linear or Aiphone intercoms with efficiency. We surely install them properly and make sure that our customers learn how to use them. We also make sure that our clients choose the best Intercom System available for their own rolling gate. Most definitely, intercoms are useful for both commercial and residential properties and our customers can rest assured that our technicians know how to handle their problems and repair their damages. You can have full trust to our expertise and you can be sure that emergency automatic roll up intercom gate problems are treated with priority. So, don't hesitate to call 24/7!
Back To Our Services